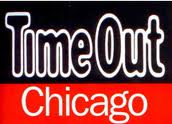 December 20, 2012
by Doyle Armbrust 
Third Coast Percussion
John Cage: The Works for Percussion 2 (Mode)
Amid the onslaught of Cage centennial albums this year, this intimate portrait by the superlative Chicago quartet clamors its way to the top with brake drums and elephant bells.
Philip Blackburn
Ghostly Psalms (Innova)
Sublime field recordings on the industrial shores of Lake Superior precede a phantasmagoric nightmare-scape to combine in a sonically diverse and transportive record.
Claire Chase
Terrestre (New Focus)
Chase kicks the image of flutist as gauzy gown–wearing princess down a flight of concrete stairs with her radiant handling of Carter, Boulez, Saariaho, Donatoni and Fujikura.
Jeremy Denk
Ligeti/Beethoven (Nonesuch)
Denk's obsession with Ligeti makes the folks on Confessions: Animal Hoarding look like Jane Goodall…and results in an album of illimitable artistry.
eighth blackbird
meanwhile (Cedille)
Following a recent Grammy victory, the Chicago-based ensemble sustains its formidable momentum with exceptional renderings of music by Adès and Hartke.
Kim Kashkashian
Kurtág/Ligeti: Music for Viola (ECM)
Kashkashian deftly navigates the staggering technical challenges of Kurtág and Ligeti, exhuming the divine in these thorny scores.
Heikki Laitinen & Kimmo Pohjonen
Murhaballadeja: Murder Ballads (Siba)
Indisputably sick accordion licks drive beastly revenge tales and bar-brawl savagery on this sanguinary bit of ghastliness.
Michael Mizrahi
The Bright Motion (New Amsterdam)
Just exchanged numbers with that cute girl on the El? This is your album. She breaks up with you a year later? This is your album.
Mariel Roberts
Nonextraneous Sounds (Innova)
The cellist's chops are the new-music equivalent of awesomesauce, drenching vital scores by some of today's most stylistically nimble young composers.
Bent Sørensen & Johannes Ockeghem
Requiem (Dacapo)
In this astounding sacred music mash-up of the Renaissance and 21st century, the vocal balances of Ars Nova Copenhagen would rustle an "Amen!" out of Richard Dawkins.