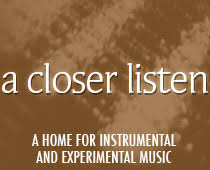 February 6, 2018
by Richard Allen
First came Holling C. Holling's beloved 1941 children's book, in which a young boy carved a Native American figure and set him on a journey to the sea, from the Great Lakes to the Atlantic Ocean.  25 years later, a half-hour film was released; and now, 42 years after that, Third Coast Percussion reimagines the score.
This is one of the highest-profile releases we've ever reviewed, as Third Coast Percussion has been positively reviewed by The New York Times and won a Grammy Award a year ago with a recording of music by Steve Reich.  But make no mistake: this music may be accessible, but it's far from the mainstream (pun intended).  It's as playful as a children's book, but as mature as a mallet orchestra can be.  If one appreciates instruments such as desk bells, wood blocks, marimba and mbira, then one will love this album, regardless of its backstory.  If not, one may be overwhelmed, as the CD nearly reaches its 80-minute limit.  We should mention that ceramic floor tiles are also used ~ yes, you may be able to try this at home ~ and Walken fans will rejoice, because there's cowbell!
But wait, there's more!  If you order now, you'll also get compositions by Philip Glass and Jacob Druckman, along with a traditional Shona piece, all based on water themes and all for the same amazing low price!  One of the Glass pieces, "Madera River", even serves as the ebullient overture.  But there's not as much cowbell in that piece ~ you'll have to wait for "The Lighthouse and the Cabin".  Third Coast Percussion is having an awful lot of fun here, so we're following their lead.  There's something oxymoronic about taking playful music seriously, but modern composition is in dire need of the levity which these lads provide.  In their press photo, their colorful mallet sticks look like a pile of discarded Tinkertoys.  And they are definitely enjoying themselves in the video below.
The occasional water sounds (first apparent in "The Lighthouse and the Cabin", resurfacing in "The Stewards") help to ground the music in geography.  One can't help but think of the wooden carving making his way to the sea.  But one also imagines Native American tribes along the journey, playing their own instruments (for example, the pounding drums of "Niagra" and rollicking bongos of "The Locks") and cheering the little guy on.  In sparse moments ("Sanctuary"), individual instruments are highlighted, but when all four let loose at once, their glee is contagious.  And when the waves launch the opening minute of "The Lighthouse", there is great rejoicing ~ the figure has found the sea.
From this point, there's still half an album to go, but as good as the rest may be, it seems like bonus material.  The dividing line is the Shona song, which would work well as closing credits, despite its difference from the rest of the album.  After that, the energy level dissipates somewhat.  It's hard to sustain the high water mark of the story-based material, but it's also hard to criticize the generosity of so much music.  Glass and Druckman pieces alternate, the former lush and upbeat, the latter spare and downbeat.  The sequencing highlights their tonal difference, but our preference would have been to group them together, especially as each composer's tracks are part of the same composition, not originally intended to be presented in pieces.  But this is a minor quibble, and the home listener can correct it with a few buttons or keys.  The lead story is that Third Coast Percussion should be up for another Grammy with this set, and that "Paddle to the Sea" (the composition) is a fine elaboration on an already well-loved story: one that should please its many generations of fans.