We'll perform repertoire that's new to us, share exciting news about upcoming projects, and more. Bring your curiosity along; we'll engage in our signature live Q&A with viewers after the show.
Click here to join the livestream.
Program
"Press" by Devonté Hynes
"Halo" by Joe W. Moore III
"Kodama" by Rodrigo Bussad
"Death Wish" by Gemma Peacocke
"Kodama" by Rodrigo Bussad was commissioned by the Chicago Center for Contemporary Composition.
"Press" by Devonté Hynes was commissioned by the Charles and Joan Gross Family Foundation.
Third Coast Percussion's programs are supported by The MacArthur Funds for Arts and Culture at Prince Charitable Trust, The Illinois Arts Council Agency, the City of Chicago Department of Cultural Affairs and Special Events, the Aaron Copland Fund for Music, the Amphion Foundation, the Gaylord and Dorothy Donnelley Foundation, and the Alice M. Ditson Fund at Columbia University.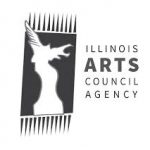 .