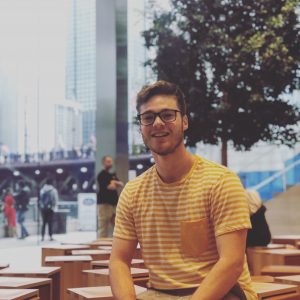 Where are you from?
I'm from Arlington, Virginia.
What is one thing about yourself that you'd want everyone to know?
I met Cory from Cory in The House when I was a kid.
Give us a link to something about you.
This was an amazing opportunity to be featured as an Arts student taking a STEM class—read about it here.
What are you up to these days?
I am pursuing a Bachelor of Arts in Jazz Performance Degree from Virginia Commonwealth University.
When did you intern with TCP?
June 2-June 14, 2019
How did you connect with TCP?
I met Third Coast Percussion through their masterclass at Virginia Commonwealth University.
Did you gain anything from the internship that you'd like to share?
It never hurts to send an email. Although this seems straightforward, I learned that a lot can be gained from just reaching out.
What else did you do while interning with TCP?
I helped to construct a MASSIVE bell stand for an upcoming piece.
Did you leave a legacy or mark on the organization that you're particularly proud of?
Helping find rehearsal space and equipment for the Bell Ringers project. I can't wait to see how it turns out!
Favorite memory from the internship?
Attending a recording session with composer Augusta Read Thomas.
If you were a cartoon character, who would you be?
Aang from Avatar the Last Airbender without any doubt
A funny or embarrassing story from the internship?
I never used the coffee maker after the first day because I forgot if something needed to be unplugged in order to avoid short-circuiting the studio.
A GIF or YouTube link that sums up your experience with TCP?
---
Our interns can experience every part of TCP's organization, from visiting recording sessions to writing grants and everything in between. And we accept interns almost year-round! If you're interesting in learning more about an internship with Third Coast, please contact Sean Connors at [email protected].