We are excited to announce that we have selected two composers to collaborate with in our first Emerging Composers Partnership!  Ben Hjertmann will compose a new work for TCP to premiere in the spring of 2014, and a new work by Jonathan Pfeffer will be premiered in the 2014-15 season. Each composer will engage in a collaborative commissioning process with us that will involve multiple meetings and reading sessions with the ensemble as they are composing the new piece, and each will receive an honorarium and recording of their work.
The selection process was very competitive, with approximately 50 emerging composers submitting applications in this first year of the program.  We  plan to accept applications for the next round of the Emerging Composers Partnership in the fall of 2014.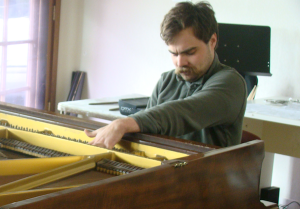 Ben Hjertmann is a Chicago-based composer and vocalist.  Ben composes and performs with the avant-folk trio the Grant Wallace Band and surrealist-pop band Kong Must Dead.
Hjertmann has collaborated with numerous chamber groups Quince Contemporary Vocal Ensemble, New Thread Saxophone Quartet, Friction Quartet, Spektral Quartet, Borromeo Quartet, Anubis Quartet, Callithumpian Consort, International Contemporary Ensemble (ICE), and many others.  His large ensemble music has been performed by UT-Austin, Louisiana State, Michigan State, Central Michigan, Kansas State, Lawrence, Northwestern, U-Nebraska at Lincoln, and NYU, Texas Tech, among others.  In 2013, Hjertmann formed a consortium of 34 wind ensembles and individuals in which the students of participating ensembles work closely with the composer throughout the process of creating a new work.
His music has been featured at Fast Forward Austin, Midwest Band and Orchestra Clinics, the conference of the College Band Directors National Association, and the South by Southwest NonClassical showcase.   Hjertmann has been a resident artist at the MacDowell Colony, the Djerassi Resident Artists Program, and the Shell Lake Arts Center.  He was a 2013 fellow at the Bang on a Can Summer Music Institute, and a 2011 fellow at the Other Minds Festival.
His work appears on Spektral Quartet's debut album "Chambers", released by Parlour Tapes+, and pianist Nick Phillips "American Vernacular" album released on New Focus Records.  In 2013 he released a self-produced album of chamber metal called Angelswort.
Ben received his Doctor of Music in Composition degree from Northwestern University in 2013.  His dissertation research focused on microtonal harmonic structures derived from sum & difference tones. He received his Bachelor of Music in Composition from Illinois Wesleyan University. Ben teaches  music technology at Northwestern University and composition for the Chicago Youth Symphony Orchestras.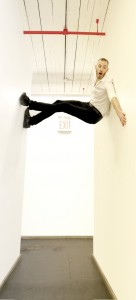 Jonathan Pfeffer is a Philadelphia-based composer, baritone, and multimedia artist operating on the peripheries of contemporary music, DIY punk, and performance art.
As leader of confrontational cubist pop ensemble Capillary Action, Pfeffer has released three full-length albums and toured the globe countless times. He has made appearances at the Willisau Jazz, Primavera, and Incubate festivals, as well as basements, living rooms, kitchens, and illegally occupied warehouse spaces alongside Tony Conrad, Rhys Chatham, Zs, Mike Watt,Les Claypool, and Deerhoof, among others. Pfeffer has also lectured on compositional and philosophical matters for everyone from grad students at Rice University to kindergarteners at Johnson Elementary School in Cedar Rapids, Iowa.
In addition to composing for film, theatre, and various chamber ensembles, Pfeffer's main focus is a solo guitar, voice, and video incarnation, which abstracts autobiographical narratives into harmonically and emotionally ambiguous "story-songs."
In 2012, Pfeffer was commissioned by the American Composers Forum to realize Bodega, a piece for percussionists Ricardo Lagomasino (Deleted Scenes) and Eric Slick (Dr. Dog), synth artist Jeff Zeigler, featuring rappers Lushlife and YIKES the ZERO.In 2013, Pfeffer was commissioned by Emmy-award winning producer/director Kevin Alexander to compose the music for Hunter&Game, a feature-length mockumentary about a fictitious Brooklyn electro duo (due 2014) and the Pew Center for Arts & Heritage to realizeAlektorophobic, a piece for Chicago pianist Julian Chin and New York-based MIVOS Quartet.