We've had some incredible interns join us at TCP over the years, and they often don't get all the credit that they deserve for the hours and hours of work that they volunteer.  Over the next few months, we will put our former interns front and center for a much overdue round of applause in a series of Intern Spotlights.
First up, the extraordinary Brianna Trainor!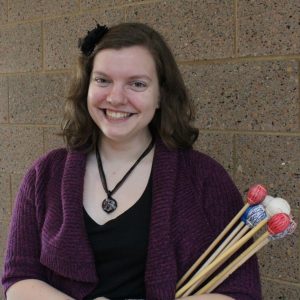 Where are you from?
I grew up in Hudson, Wisconsin, and I completed my undergrad at the University of Wisconsin – Stevens Point.
When did you intern with TCP?
January through June of 2017
What is one thing about yourself that you'd want everyone to know?
I am a Björk fanatic.
Share a GIF or YouTube link that encapsulates your TCP experience!
https://www.youtube.com/watch?v=leEyy3mT7KQ
If you were a cartoon character, who would you be?
I've been watching a LOT of Bob's Burgers lately, so I'll go with Gene Belcher for his unique sense of humor and musical hobbies.
How did you connect with TCP?
Sean was my studio teacher at UWSP for two years!
What are you up to these days?
I'm a graduate assistant at University of Missouri with the Mizzou New Music Ensemble!
Did you gain anything from the internship that you'd like to share?
Insight into the inner workings of a not-for-profit arts organization, particularly grant applications, logistics/operations, and collaboration between artists.
What else did you do while interning with TCP besides work with the group?
I was a member of Ayodele Drum & Dance, I took djembe lessons at The Stude Drum Class, and I worked at Tano's Pizzeria.
Favorite memory from the internship?
A few: watching the run though of Glenn Kotche's Wild Sound in the studio, performing Inuksuit in Arkansas, and watching TCP win the GRAMMY!
Funny / embarrassing story?
On my first day as an intern, I was given several printing tasks. I assumed that I was expected to print wireless from my laptop, which I had never done before. Even though all four ensemble members and Liz were in the office, I was too embarrassed to ask for help, so I frantically googled how to set it up and do it so I didn't look ignorant. It took me half an hour but somehow I got the first document to print. When I walked across the room and picked up the papers, David said, "Did you just print wireless?" When I replied, "Yes, wasn't I supposed to?" everyone's heads whipped around astonished like I had just invented fire. Apparently I was the first person to ever do it! We spent the next 20 minutes setting it up on all of our laptops and celebrating by wireless printing random documents because we could. Everyone else was laughing from excitement about being able to take this new step into the future and never have to stand up to print anything anymore. I was laughing from the sheer relief that I hadn't made myself look stupid on my first day of work. Good first impression: check.
Do you have a legacy / mark that you left with TCP, something of which you're particularly proud?
Laying the foundation and setting the standard for the Office Assistant staff position.
Sean says:
Bri spent literally days of her life editing, scanning, and copying music for the US Premiere of Marta Ptaszynska's Voice of the Winds, which was brought to life by 100 percussionists spread all over the Museum of Contemporary Art, Chicago. Click here to see a snippet of the project that would not have happened without Bri's blood, sweat, and tears.
As you can see, an internship with Third Coast Percussion is a great learning opportunity and a fun adventure. If you're interesting in learning more about an internship with Third Coast, please contact Sean Connors at: [email protected]. Keep checking back for more stories in our next Intern Spotlight, featuring Cameron Leach!
But before that, we'll take you to Colin's Corner to learn about the instruments and artwork that our brilliant Studio Manager, Colin Campbell, has been building for us. Here's a sneak peek of his "Third Coasters": putting the "fun" in "functional"!