It's time for another Intern Spotlight! This week, we are featuring Noel Holloway. Noel interned with us for several weeks this summer. Thanks for everything, Noel, and best wishes for your final year at Eastman!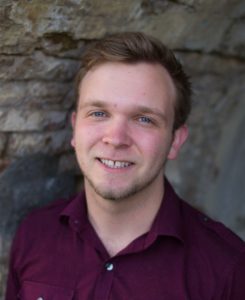 Where are you from?
Albany, NY. Going into my senior year at Eastman.
What is one thing about yourself that you'd want everyone to know?
I have 2 dog children (Moby and Pepper). I also have 2 cat children (Bandit and Martini). I am also gay, which is fun.
Give us a link to something about you.
This is a video of me that I sent in to qualify for the Taiwan International Percussion Convention: Marimba Solo section. I was 1 of 4 Americans who qualified for this out of 50 participants, aged 17-29. I've improved a lot since then with those pieces, but I am really proud that I was able to do all of this music in one take. I was halfway through my sophomore year at Eastman when I recorded this.
What are you up to these days?
Currently focusing on a healthy mindset associated with my own music. I used to have a unhealthy competitiveness vibe with myself and got pretty burned out from that, so this summer I have been working on just focusing on the passion I have to music and being comfortable with where I'm at as opposed to compared to others.
Once I return to school, I will be preparing for my senior recital and grad school auditions! I'm going to apply to Northwestern, Miami, Yale, and MSM.
ABOUT THE INTERNSHIP
When did you intern with TCP?
June 5 – July 13, 2018.
How did you connect with TCP?
I met Dave when he came to Eastman for an ALP (Arts Leadership Program) talk and reached out to him and then Sean.
Did you gain anything from the internship that you'd like to share?
Learning what the day-to-day workflow of an ensemble like this entails. It was super cool to learn about the balance between "normal desk work" and rehearsing was for them. Also talking with the guys about finding donors, booking, grant writing, and a general difference between their non-musical and musical work was really cool to learn about.
What else did you do while interning with TCP?
I worked with the studio manager Colin a lot on different studio projects and took inventory of their studio. I did a lot of things here and there helping out TCP in general.
Did you leave a legacy or mark on the organization that you're particularly proud of?
Besides helping out with their inventory and helping out with various projects here and there, I do not think I did anything monumental to "leave a mark" on the group, but I definitely think I made an impression with all of the people in TCP and a lasting connection/ friendship there.
Favorite memory from the internship?
Favorite memory would be driving to Notre Dame with Colin; it was a great time and was really exciting to help set up and move all the gear for their residency. Helping out at their Constellation show was also really cool.
SILLY THINGS
A GIF or YouTube link that sums up your experience with TCP?
Couldn't really find one, but this is a great video.
If you were a cartoon character, who would you be?
Him, from the Powerpuff Girls
A funny or embarrassing story from the internship? 
I was helping out with their show at Constellation, and was supposed to add more chairs in between to the audience since they were so full. I had never done anything like that before, so me and the other intern basically just clumped a bunch of chairs awkwardly in one of the aisles and only 2 people sat down (even though there were 10 chairs) because they were so awkwardly placed. Apparently we also blocked the exit which made the manager then had to fix since it was against fire code.
---
If you're interesting in learning more about an internship with Third Coast, please contact Sean Connors at [email protected]. AND…..
Percussionists and wood-slat players of all ages: be on the lookout for our next visit to Colin's Corner, when Colin will reveal the secrets of TCP's wood slat collection!