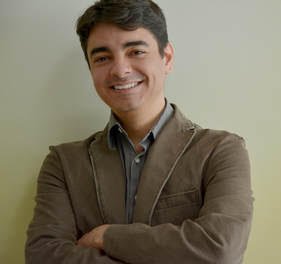 Hi everyone! We hope you are all enjoying the last bits of summer. It's been a while, but we are happy to return to our Intern Spotlight series, this time with the wonderful Henrique Batista! Henrique worked with us during the 2017-18 season both at Notre Dame and in Chicago. Thank you for everything, Henrique!
Where are you from?
Santa Catarina, Brazil
What is one thing about yourself that you'd want everyone to know?
I love bread.
Give us a link to something about you.
Here's a video of me playing Steven Mackey's Micro-Concerto in April on my second DMA recital. 
What are you up to these days?
I am gearing up for the last year of my DMA at Bowling Green State University.
ABOUT THE INTERNSHIP
When did you intern with TCP?
My internship with TCP was during the Spring semester of 2018. During my time with TCP I had the opportunity of observing their activities on the road, watch them engage with numerous outreach and educational activities in and out of the city of Chicago, as well as watch them perform a number of times.
How did you connect with TCP?
My first contact with TCP was during a concert at the Toledo Museum of Art in 2017 at which I had the opportunity of playing one of the percussion parts on the Lou Harrison Organ Concerto. This took place as the result of an amazing collaboration between the Toledo Museum of Art, TCP, and Bowling Green State University. After the concert I approached Sean about the possibility of fulfilling my internship requirement for my DMA degree with the organization and over the course of the next couple of months we kept in touch.
Did you gain anything from the internship that you'd like to share?
Yes! I learned so much from my time with TCP. One thing that struck me the most is how engaging and diverse their educational programs are! It was very rewarding to see them engage with groups of different sizes, age ranges, and backgrounds. TCP's impact as educators in their community is as compelling as their work as performers. It was also very rewarding to see aspects of what it takes to run a successful non-profit; from running board meetings, navigating logistics, and keeping a healthy stock of gaff tape.
What else did you do while interning with TCP?
During my internship I spent some time with Third Coast in South Bend, Indiana, Cleveland, Ohio, and Chicago, Illinois. This was the first time I spent a considerate amount of time in Chicago, and I enjoyed exploring the city, Chicago is amazing. The bulk of my internship took place during the semester, so I had to juggle skyping into classes, assignments, and getting ready for my second DMA recital. I checked out some concerts while I was in town, the Deagan factory, and good restaurants, there's so much happening in Chicago!
Did you leave a legacy or mark on the organization that you're particularly proud of?
I took Rob's marimba resonator case to get fixed in Chicago and eventually found out that shoe repair places are ideal for marimba case repairs. The things you learn…
Favorite memory from the internship?
I have two favorite memories of my time with Third Coast. The first memory is when I got to sit in during their quarterly board meeting. It gave me a good perspective of how much thought and attention to detail goes into building a successful chamber group. It was also a testament to the incredible level of commitment everyone has to the organization. The first performance I got to watch of Paddle to the Sea in South Bend Indiana will also stick with me for a long time, What an amazing show!
SILLY THINGS
A GIF or YouTube link that sums up your experience with TCP?
If you were a cartoon character, who would you be?
Paul from Llamas with Hats
---
As you can see, an internship with Third Coast Percussion is a great learning opportunity and a fun adventure. If you're interesting in learning more about an internship with Third Coast, please contact Sean Connors at [email protected].