Back in April, we were invited to perform the true pinnacle of music awesomeness: an NPR Music "Tiny Desk Concert." So many amazing musicians have performed from this real live working desk (yes, someone actually works at it every day, and moves to another table when it's concert time), and we were thrilled to join the ranks. The whole TCP team worked tirelessly to choose music that would fit in the tiny space, taping off a scale model of the desk in our studio and doing impromptu runs of the show while on tour. We even arranged some of our newest pieces for far more space-efficient instruments. We were all so stoked for this amazing experience, and we want to share more of it with you! Here are some memories and reflections from Sean, Peter, David, Rob, and Colin.

And check out the concert here!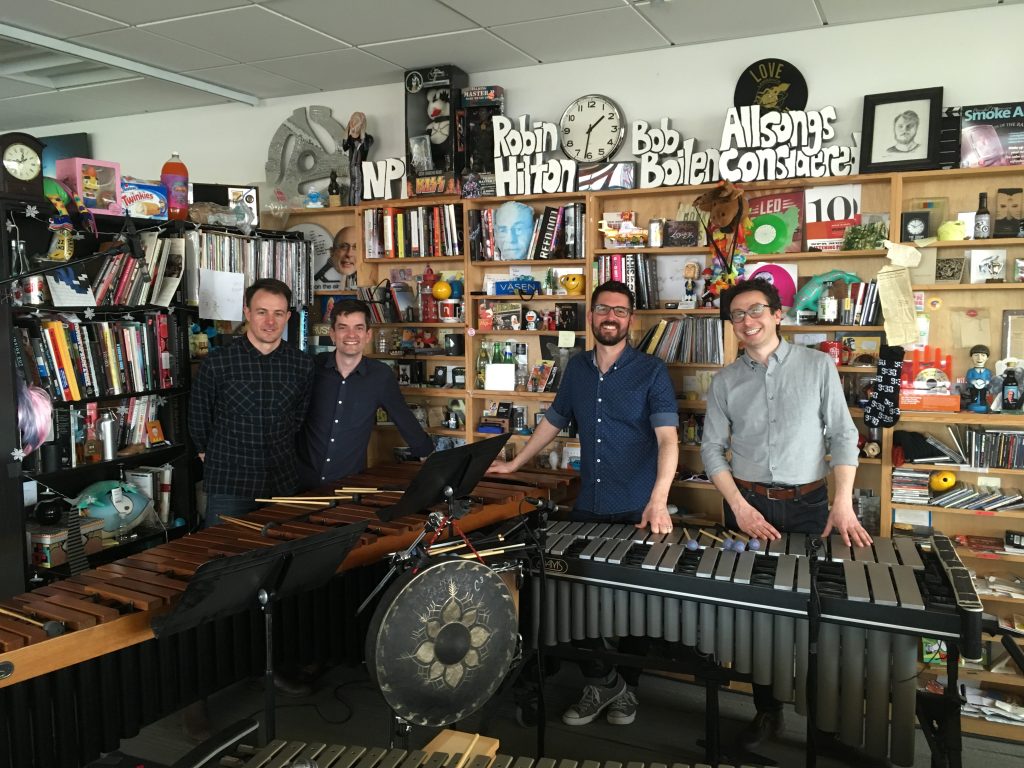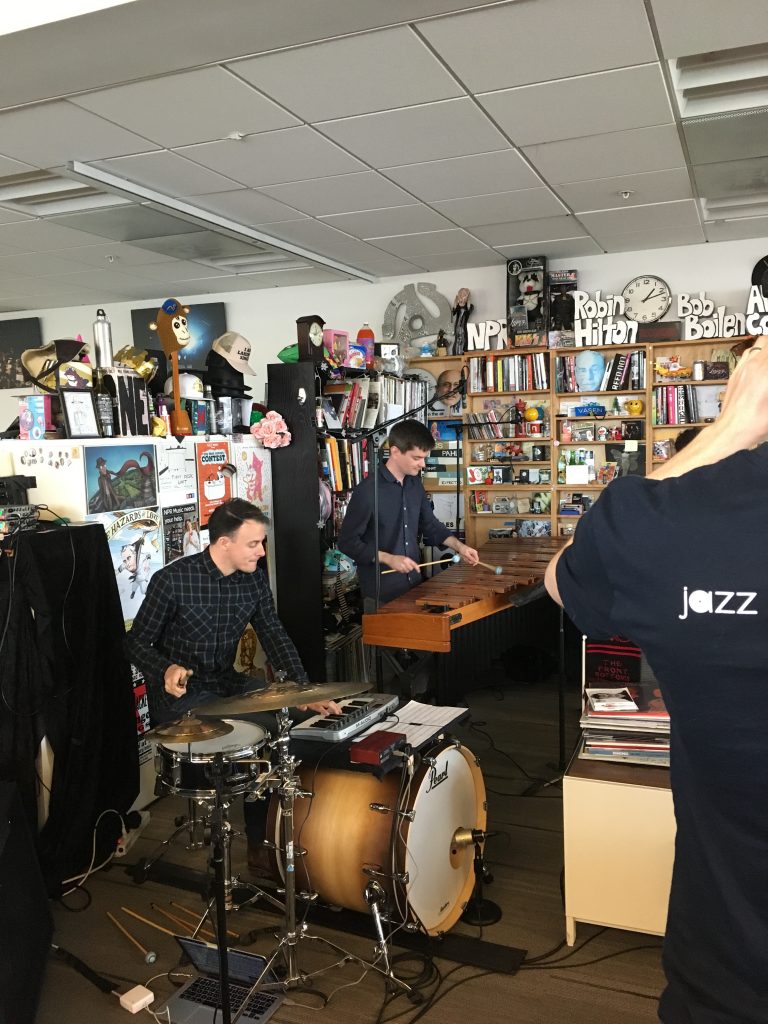 ---
What were the desk, office, and building like?
Rob: I felt like I was at nerd Mecca! I mean, I don't put a lot of people or institutions on a pedestal, but I have a ton of respect for NPR. Knowing the level of discourse at which so much of our media engages, I cringe to think about what the American cultural landscape would look like without NPR. I was pretty giddy to be there.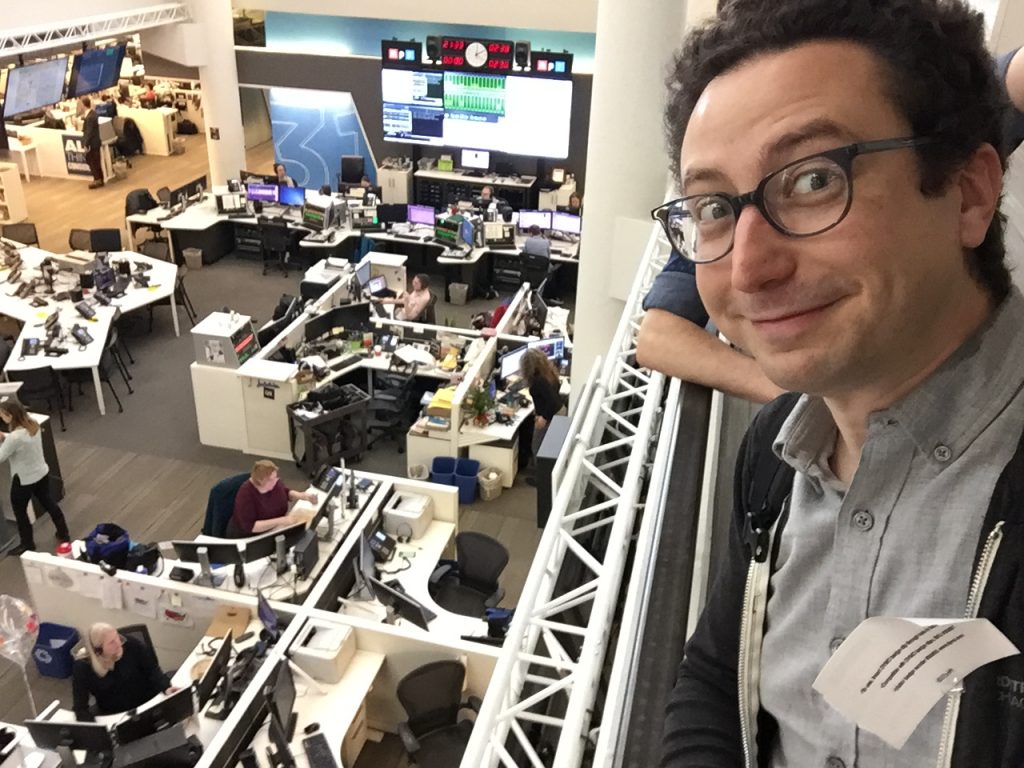 Colin: The building is a really modern, clean design. Many of the desks in the massively open four-story newsroom were empty during our brief time inside, but the whole place still ran with a constant quiet hum of activity, seemingly poised to snap into frenzied action at the drop of a Tweet. It seems like a great place to work. I say that because everyone I encountered was in a good mood, and they have an incredible cafeteria with really healthy food.
The curb/ ramp going up to the loading dock stinks. I had to back our large box truck in at a ridiculous angle across the neighboring driveway to avoid bottoming out. I honestly don't know how they deal with it on a daily basis.
Peter: Desk area was about as small as we were thinking it would be, but the surrounding area was much more open than I was anticipating.  Basically the entire floor of NPR was an open floor plan, which meant that everyone could see and hear what you were up to. We definitely felt like we were playing to all of NPR, not just a few people in an office.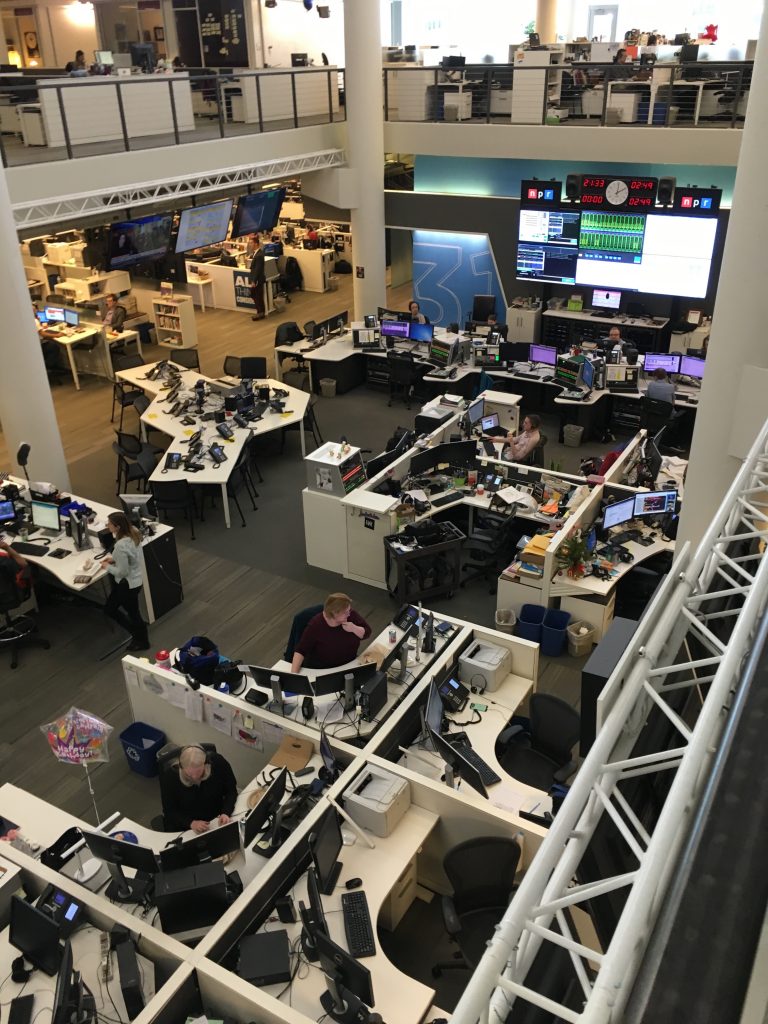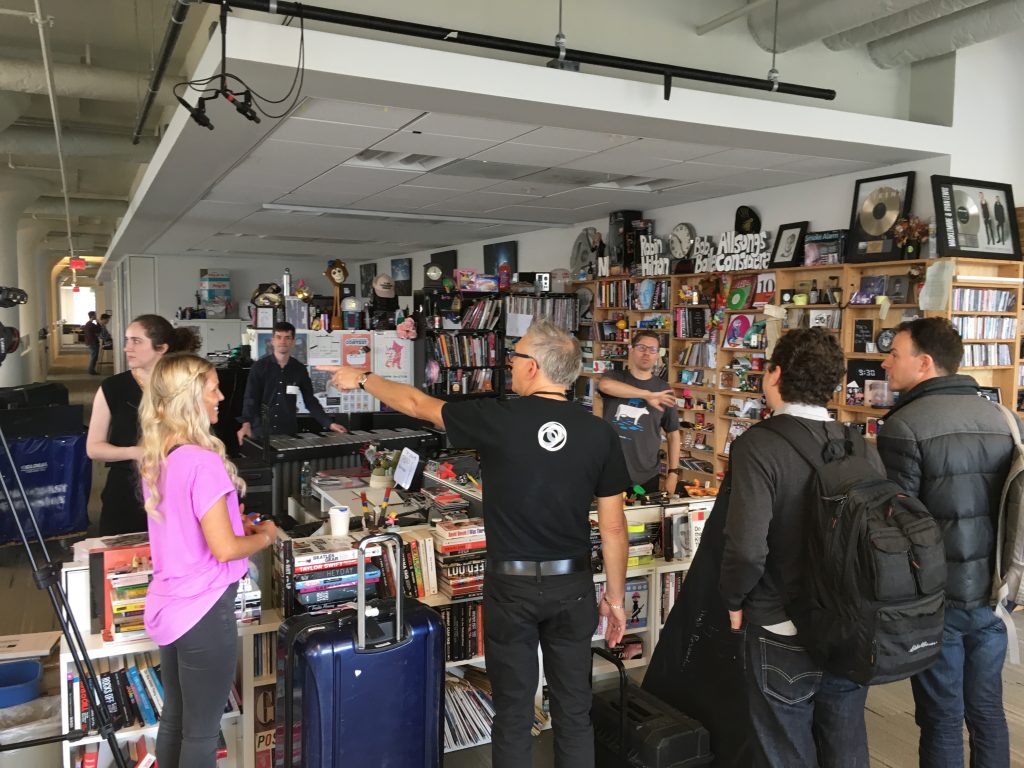 What were your favorite objects in the office?
Rob: The tiny desk gong. Also the pillow of Carl Kasell's head watching over us (RIP, Carl).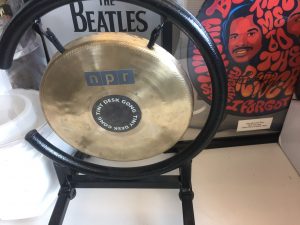 Colin: The music library (every box set of everything ever made). Discarded celebrity water bottles (Adele, ?uestlove, et al…).
Peter:  Chris Thile's Birthday Cake, Natalie Merchant's water bottle.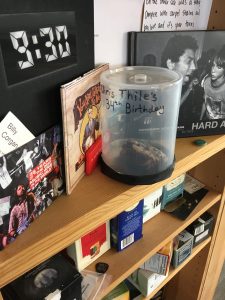 Sean: DJ Otter Portrait (see photo), Superorganism blow-up sea creature, some bottle of water that I accidentally drank that somebody left there…yeesh.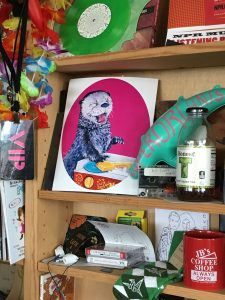 David: The guest book was pretty sick. We only saw one "volume" of it, but our volume also had Dee Dee Bridgewater, Thundercat, and a bunch of other heavies.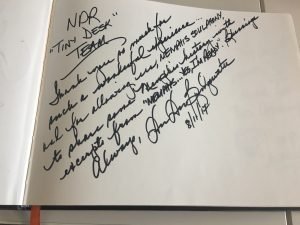 What was your favorite part of the process?
David: Being surrounded by a bunch of interesting smart people who LOVE music.
Sean: Seeing Josh Rogosin who is the sound engineer for NPR in action was very very cool.  He worked super efficiently and made some things that we never thought were going to be heard sound amazing in the video with a very limited number of microphones. Bookcases and carpeted office floors aren't known for helping the resonances of the low end of a marimba, but Josh worked his magic!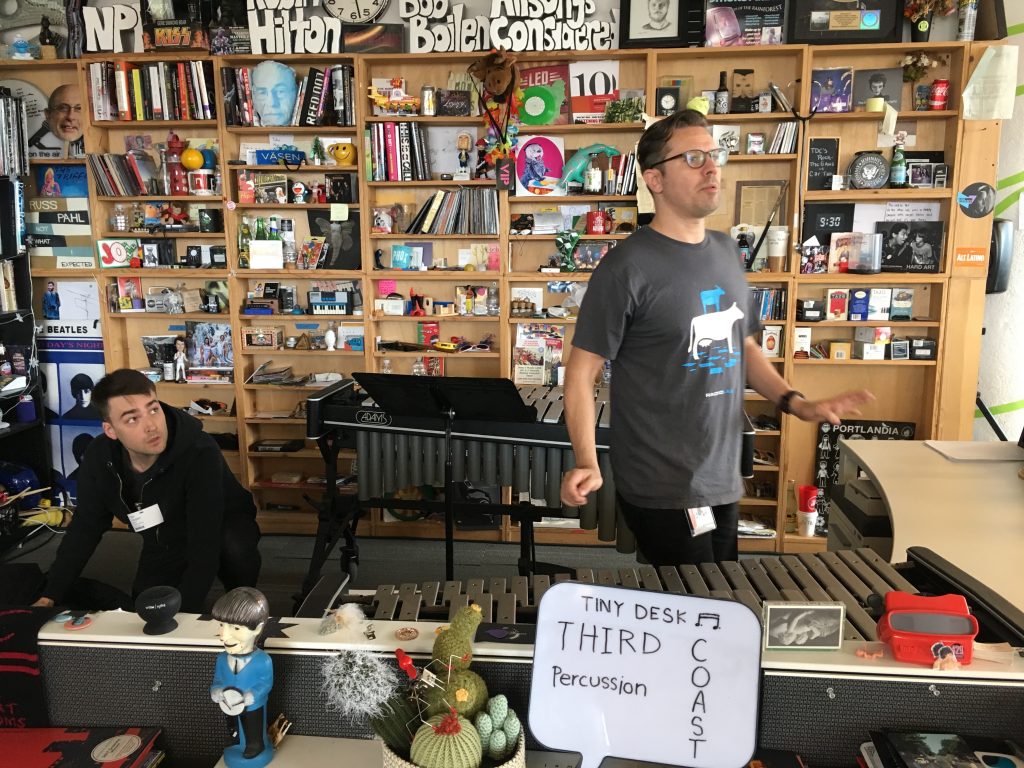 Colin: 1. Witnessing an historic/ amazing TCP performance from 4 feet away
2. Successfully backing in the truck without damaging the truck or the building.
Rob: Shortly before the performance when all of the NPR folks came in to watch the show on their lunch breaks. There's a fun excitement in the air, and it was simultaneously a very casual environment and also pretty nerve-wracking, because these people make some of my favorite stuff!
Peter: Performing. There was a really fantastic energy from the NPR staff audience that made it a really exciting 15min. of music making.  
Did you learn any cool facts about the series?
Sean: That is is ACTUALLY Bob Boilen's working desk.  He gets kicked out of there on a weekly basis!
Colin: They do 3-5 Tiny Desk Concerts a WEEK!!! During lunch break!!
David: They've done over 700 of these things!
Any cool insights that you can share?
David: The series started because Bob Boilen and a colleague were watching an artist at SXSW and they thought the sound wasn't good and both said they'd rather just hear that artist live unamplified behind Bob's desk. So they invited the artist and filmed it and that was the beginning.
Colin: The "Tiny Desk" is an actual workspace! People were working there when we arrived, and we had to move their paperwork and laptops off of their tiny desks to make room for our pipes and almglocken!
Sean: All the people there are sooooo cool, pleasant, and supportive. Josh and Bob came to our concert the next day at the Smithsonian, for example. Colin made the point that it felt like everyone there was at the absolute top of their field, but also happy to be there and working really hard.
What are some of your favorite other Tiny Desk concerts?
David: Noname, Anderson .Paak, St. Vincent, Jamila Woods, Superorganism, Common at the White House
Sean: TOOOO MANY TO NAME!!!! How can you not love Chance reading poetry and covering Stevie? or The Roots just doing anything?
I think I have 3 categories of favorite Tiny Desk concerts…
Amazing concerts by friends and collaborators: Son Lux, Eighth Blackbird, Mucca Pazza
Artists that I heard for the first time through Tiny Desk: Superorganism, Noname, T-Pain (embarrassed that I hadn't before…)
Groups that I already really liked but that I had never SEEN perform before watching them on Tiny Desk: Sylvan Esso, Rubblebucket, Chvrches….this is an especially cool aspect of the Tiny Desk series because it puts faces on a lot of the artists that I only really thought of as a theoretical entity   
Colin: The Roots, Chance The Rapper, Mucca Pazza
Peter:
Large bands: Sun Ra Arkestra, No BS Brass Band, Mucca Pazza
Chicago: Chance the Rapper, Noname, Gallant (w/ Saba)
Rob: 
Perfume Genius – it feels like what Tiny Desk should be, pared down and personal. There's an almost-uncomfortable fragility and delicacy to this one, and it's really powerful. Their usual recorded sound is much bigger/electronic/produced but I think they found a good sound on the other end of the spectrum too.
Roomful of Teeth – they just sound so awesome, and it's amazing to hear all these sounds come from their faces in this sort of environment.
tUnE-yArDs – they're one of absolute favorites. This is a much older tiny desk show from 2011, and it's a little raw. Super fun. It's great watching Merrill Garbus build up a whole bunch of layers with a loop pedal, and there are some nice surprises in here too.
Son Lux – I'm maybe a little partial, since we've done project with Ryan and know the other guys in the band a little bit from a festival we both played on a couple years ago, but I love the addition of the horn, and they still have such a vivid sound from the whole band in the office.
——–
Many thanks to NPR Music for having us at the Tiny Desk!