PROGRAM
Since Time Began Michael J. Burritt (b. 1962)
Alchemy (1623)
Campana (1723)
Homage (1823)
Revolutions (1923)
World Premiere
Commissioned by the Zildjian Company in celebration of its 400th anniversary, and written for Third Coast Percussion.
Watercolor Sun Ivan Treviño (b. 1983)
World Premiere
Perspective Jlin (b. 1987)
Paradigm
Obscure
Derivative
Fourth Perspective
Dissonance
Duality
Embryo
Featured on Third Coast Percussion's GRAMMY®-nominated album Perspectives
2023 Pulitzer Prize Finalist
Program Notes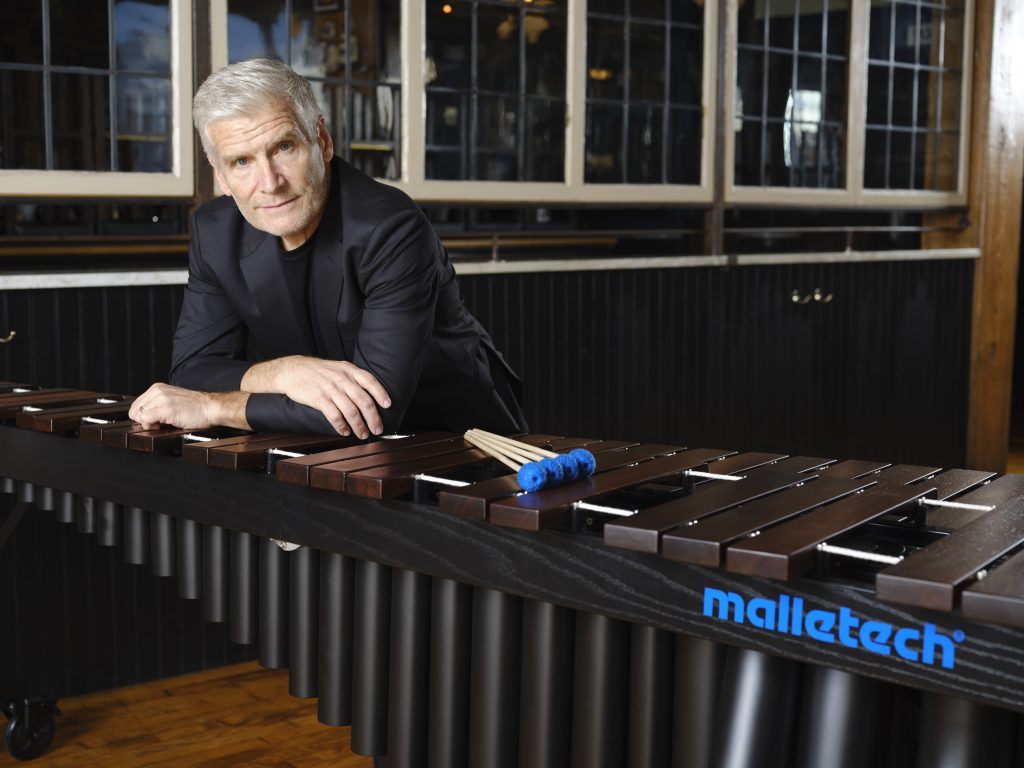 Since Time Began was commissioned for the celebration of the Zildjian 400 Anniversary in 2023. The vision for this project was to create a 30 minute percussion quartet in 4 movements, with each of the movements representing 100 years in history of the iconic company.
After a ceremonial introduction, the first movement, Alchemy (1623), begins with a solo marimba line representing Avedis Zildjian, the founder and first to make cymbals for the Sultan in 1618. A second marimba voice joins, played in pseudo counterpoint and representing the son, Ahkam, the first to succeed Avedis and share in the secret process. Thus the story begins! The movement reflects the baroque period with its polyphonic texture and driving dance-like climax. The title Alchemy refers to the genesis (coming together of the company) and the medieval reference to the chemistry of mixing metals to create gold.
Movement 2, Campana – (Bells) (1723), represents the classical period with its pseudo rondo form. The movement also introduces the amadinda pipe rack, employed throughout the piece, as a nod to the sounds of church bells that were made by Zildjian in their early history. The rudimental drumming that characterizes the movement, played both on metal and membraned sounds, represents Zildjian's role in making instruments for the Janissary music (Turkish Military music) of the period.
Homage, movement 3 (1823), reflects on the romantic period incorporating the Turkish folk song, Agla garip agla (Weep, Sad One, Weep), which is vocally rendered by the ensemble. A haunting and contemplative movement, it slowly builds to one distinct climax, a characteristic of many works from this period in music history.
The final movement, Revolutions (1923), represents the last 100 years, where the evolution of Jazz, Popular and Contemporary Classical music shared a symbiotic relationship with the development and influence of Zildjian Cymbals on these genres. The movement reflects these styles using a gritty and driving rhythmic language and modal melodic platform reminiscent of Bebop, Boulez, Bartok and Zappa.
*A special thanks to Zildjian for giving me the opportunity to write this work for this monumental occasion. I can't think of another company that has consistently led with innovation and excellence while always putting artistry at the forefront of their mission. Congratulations! Here's to the next 400 years!!!
**Additional thanks to Third Coast Percussion for taking on this project. Working with you on this piece has been one of the most rewarding and meaningful experiences of my career. When your students become your heroes, you know you're doing something right. — MJB, October, 2023
Duration: 40 minutes.
—
Having performed in four continents and more than forty states, Michael Burritt is one of his generation's most accomplished percussionists. He is in frequent demand performing concert tours and master classes throughout the United States, Europe, Asia, Australia and Canada. Mr. Burritt has been soloist with the United States Air Force Band, Dallas Wind Symphony, Omaha Symphony, Chautauqua Symphony Orchestra, Nexus, The Paris Percussion Group (France), The Amadinda Percussion Group (Hungary), Third Coast Percussion, Ju Percussion Group (Taiwan), Percussion Art Quartet (Germany) and the Amores Percussion Group (Spain). Mr. Burritt has three solo as well as numerous chamber recordings including his work Home Trilogy, with the world renown percussion group Nexus and soon to released a new recording of solo and chamber works by Alejandro Viñao with the Grammy Award winning Third Coast Percussion. In 2006 he recorded the Joseph Schwantner Percussion Concerto with the Calgary Wind Ensemble on the Albany label. Burritt recently premiered Fast Forward, a new chamber concerto written expressly for him by Pulitzer Prize winning Composer Joseph Schwantner in celebration of the centennial of the Eastman School.
He has been a featured artist at ten Percussive Arts Society International Conventions. Mr Burritt has performed solo concerts in some of the worlds most prestigious concert halls including Weill Hall at Carnegie Hall, The Purcell Room at Queen Elizabeth Hall in London and National Performing Arts Center in Beijing and The Kennedy Center. He has extensive chamber and orchestral experience and has performed with the Chicago Chamber Musicians, The Chicago Symphony and The Peninsula Music Festival Orchestra.
Mr. Burritt is also active as a composer, with three concertos to his credit as well as numerous solo and chamber works for marimba and percussion. His works for solo marimba have become standard repertoire for the instrument and are frequently required repertoire on international competitions. Commissions include The World Marimba Competition in Stuttgart Germany, The Paris International Marimba Competition, Nexus and Paris Percussion Group. Zildjian recently commissioned Burritt to compose a work in celebration of the company's 400th Anniversary in 2023 to be premiered by Third Coast Percussion at PASIC 23. Mr. Burritt is published with Keyboard Percussion Publications, C. Alan, Masters Music and Innovative Percussion. Burritt is also an artist/clinician and product design/consultant for Malletech, where he has developed his own line of marimba mallets and the MJB Signature Marimba. He is an artist/educational clinician with Zildjian, Evans, and Yamaha Drums. Mr. Burritt was the President of Percussive Arts Society from 2021-22, a member of the Board of Directors from 1996 – 2008, a contributing editor for Percussive Notes Magazine from 1991 – 2006 and chair of the Keyboard Committee from 2004 – 2010.
Burritt currently holds the Paul J. Burgett Distinguished Professorship and is Professor of Percussion at The Eastman School of Music where he is only the third person in the history of the school to hold this position. Prior to his appointment at Eastman, Mr. Burritt was Professor of Percussion at Northwestern University from 1995-2008 where he developed a program of international distinction. Mr. Burritt received his Bachelor and Master of Music Degrees, as well as the prestigious Performers Certificate from the Eastman School of Music in Rochester, New York.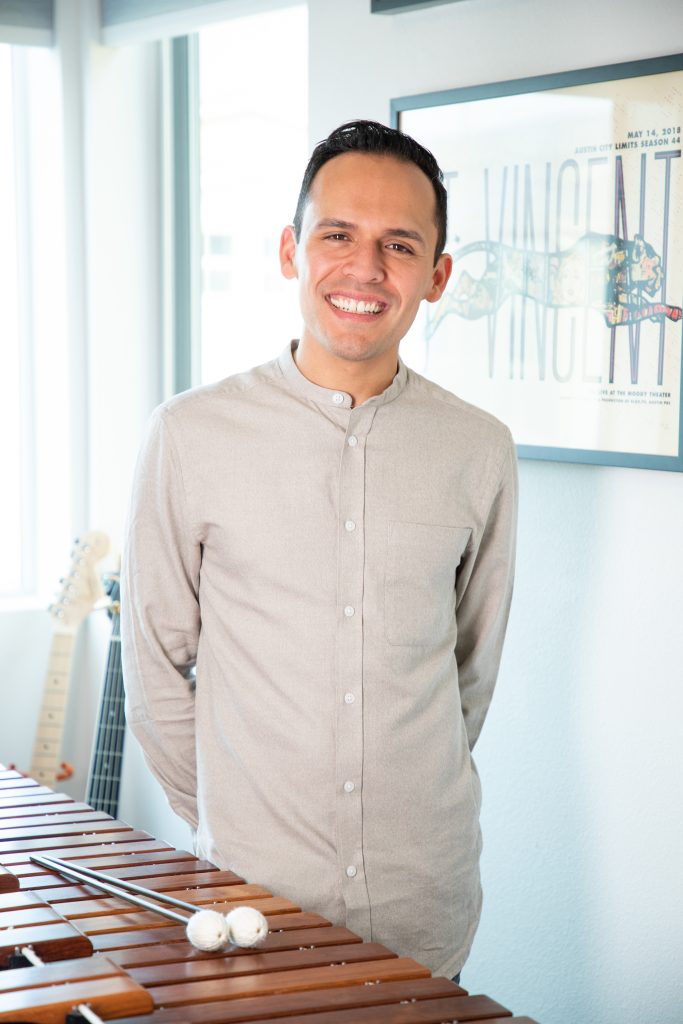 "Watercolor Sun (2023) was commissioned by the Grammy Award winning ensemble, Third Coast Percussion. It was written for the quartet to perform on one single 4.3 octave marimba. I have been friends with the members of Third Coast for many years and have watched them from afar with much admiration. It brings me great joy to write music for them.
There are moments in life that create a feeling I can't quite describe. Like waking up in a sunlight room, or sharing a meal with old friends, or going on a road trip with someone you love. There's a jovial, euphoric feeling to it. I feel it when I catch the sunrise with my family, and I feel it when I play music too. Maybe it is gratitude, or peace, or something in between. Whatever this feeling is, it is at the heart of Watercolor Sun." – Ivan Trevino, Nov. 2023
Duration: 5 minutes.
—
Ivan Trevino is a Mexican-American composer, percussionist, teacher and arts advocate. Recognized around the world for his contributions to percussion literature, Ivan's music has been performed on five continents in over 25 countries. He is a multi-award winning recipient of the Percussive Arts Society's International Composition Contest and has over 80 compositions and songs to his name. His newly commissioned works include an etude book for The Juilliard School, a wind band piece for The Eastman Wind Ensemble, and a marimba quartet for the Grammy Award winning group, Third Coast Percussion. In 2020, Ivan was the featured composer on NPR's Performance Today. Ivan currently serves as Assistant Professor of Practice at University of Texas at Austin, where he teaches a studio of undergraduate and graduate percussion majors. He is an artist and clinician for Innovative Percussion, Black Swamp Percussion, Zildjian Cymbals, Evans Drumheads, Pearl / Adams, and Meinl Percussion.
Ivan is also known for his work as a drummer with Break of Reality, an international touring cello rock quartet. As a member of the ensemble, Ivan was selected as a music ambassador by the U.S. State Department during the Obama administration. Break of Reality has released five studio albums and has been featured on PBS, Huffington Post, Yahoo Music and is on regular rotation on National Public Radio.
Ivan's work spans various media including storytelling, poetry, and film scoring. His collection of online writings are regularly circulated throughout the arts community, including "My Pretend Music School", a blog post that has sparked debate about music school curriculum and has become required reading for collegiate courses around the U.S.
Ivan currently lives in Austin, TX with his wife, Amanda, and their children, Henry and Oscar.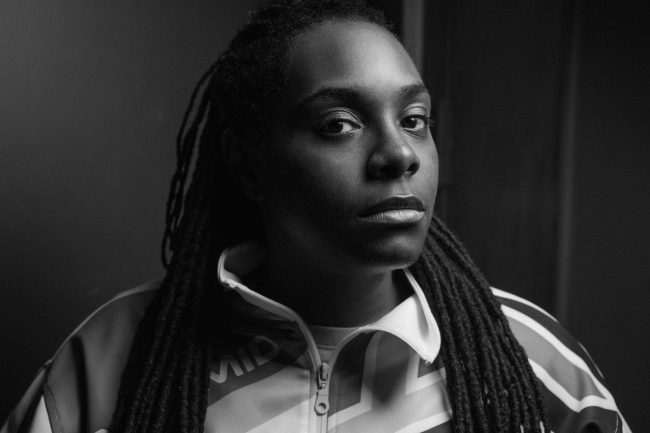 A math lover, a former steel factory worker and a proud resident of Gary Indiana, Jlin (Jerrilynn Patton) has risen to become one of the most distinctive composers in America and one of the most influential women in electronic music. Jlin's introduction to producing music stems from Chicago footwork, but diverse influences ranging from Igor Stravinsky and Philip Glass to Miles Davis and Eartha Kitt give Jlin's complex percussion-driven work a sophisticated polyrhythmic sound all its own.
Jlin's thrilling, emotional, and multidimensional works have earned her a rank as "one of the most forward-thinking contemporary composers in any genre" (Pitchfork). Her signature sound builds on a Chicago footwork style, expanded and warped into a frequency that is solely hers. Jlin was a 2023 Pulitzer Prize nominee for Perspective – originally commissioned and performed by Third Coast Percussion. Her albums Dark Energy (2015) and Black Origami (2017) received critical acclaim and have been featured "best of" in The New York Times, The Wire, LA Times, Rolling Stone, The Guardian, and Vogue. Referencing a wide range of musical movements and techniques, Jlin's collaborations with contemporary artists are just as relevant to her practice exemplified by "JSLOIPNIE," the product of JLin and the late, iconic SOPHIE. Additional collaborators include William Basinski, Dope Saint Jude, Holly Herndon, and Zora Jones. Jlin has since remixed works for major artists including Björk, Max Richter, Martin Gore (of Depeche Mode), Galya Bisengalieva, Marie Davidson, Nina Kraviz, Ben Frost, and others. Inspired by movement, Jlin has also collaborated with legendary choreographers: Wayne McGregor (2017), and Kyle Abraham (2021).
Her seven-movement work Perspective was written for Third Coast Percussion through a highly collaborative process. After exploring and sampling instruments from TCP's vast collection of percussion sounds at their studio in Chicago, she created an electronic version of each of the work's seven movements using these samples and other sounds from her own library.
The members of Third Coast Percussion then set about determining how to realize these pieces in live performance. Diving into each of the audio tracks, the percussionists found dozens of sonic layers, patterns that never seem to repeat when one would expect them to, and outrageous sounds that are hard to imagine recreating acoustically. Even typical percussion sounds like snare drum, hi-hat, or kick drum exist in multiple variations, subtle timbral shades in counterpoint or composite sounds.
In pursuit of the broad expressive range of Jlin's original tracks, TCP's live version of this piece incorporates mixing bowls filled with water, bird calls, and a variety of gongs and tambourines, as well as many variations of drum set-like sounds: instruments that are like a hi-hat but not a hi-hat, or serve the function of a snare drum but are not a snare drum.
Jlin named her piece Perspective as a reference to this unique collaborative process, that this work would exist in two forms, the same music as interpreted through different artists and their modes of expression.
In addition to concert performances, Third Coast Percussion will feature the full 7-movement Perspective in its Carnegie Hall debut in January 2023, as part of a collaboration with Movement Art Is. That project features choreography by MAI founders Lil Buck and Jon Boogz, and new music by Tyondai Braxton in addition to Jlin's work and TCP's arrangements of music by Philip Glass.
Perspective by Jlin was commissioned for Third Coast Percussion by the Boulanger Initiative, the Maxine and Stuart Frankel Foundation, Carnegie Hall, the Lester & Hope Abelson Fund for the Performing Arts at the Chicago Community Foundation, the DEW Foundation, and Third Coast Percussion's New Works Fund.
Perspective was named a Finalist for the 2023 Pulitzer Prize for music.
Duration: 30 minutes.
Perspective is featured on Third Coast Percussion's GRAMMY®-nominated album Perspectives. Click here to learn more, purchase, and stream.
Click here to purchase the sheet music for Perspective from Third Coast Percussion Publications (individual movements also available).