As part of our series of #TCP10 blog posts, the members of Third Coast Percussion answer the 10 questions we're most commonly asked by audience members after concerts and at the end of youth education programs.
1. Are you guys reading music up there? What does the sheet music look like?
One of the exciting challenges/opportunities in percussion music is that each piece needs its own notation system. Based on the instruments being used and the musical content, the composer needs to figure out the best way to communicate what they want to the performers to do. When we commission new works, working this out with the composer is always part of our collaboration.
Sometimes the notation just looks like typical sheet music, like you'd see on piano. This is often true of parts written for keyboard percussion instruments- marimba, vibraphone, etc.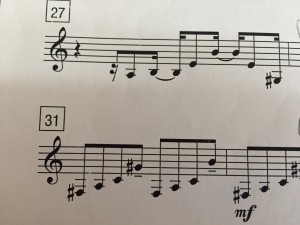 Sometimes the music is notated on a normal looking staff, but the composer has to provide a key indicating what the different lines represent. So instead of the bottom line being E-natural, the bottom line is "low cowbell."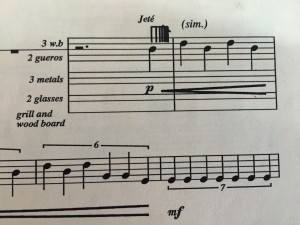 Sometimes the music requires other graphic symbols to represent particular techniques. Again, the composer will have to define at the beginning of the score what these symbols mean.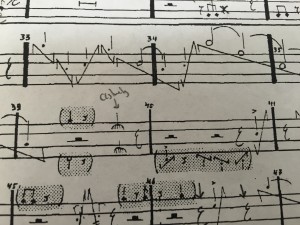 The result is usually some combination of traditional notation and newly invented symbols, but occasionally a composer will notate an entire piece using just their newly invented vocabulary, or in rare occasions, give us graphic symbols with NO explanation, and just leave it to us to decide what we'd like it to mean.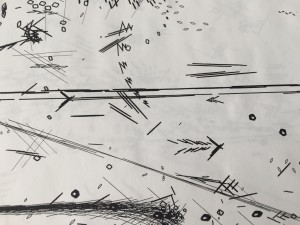 2. Where did you meet? How long have you been together?
We all met while studying music at Northwestern University. We each did at least one degree there, between 1999 and 2007. Chamber music for percussion was an important part of the curriculum there, and we had a phenomenal teacher, Michael Burritt, who really got us all excited about this repertoire.
Third Coast Percussion has been around since 2005. It grew out of a quartet we formed as part of the Civic Orchestra of Chicago's Musicorps program to do community engagement work. We're celebrating 10 years this season, with these blog posts and more!
3. How did you get all these instruments here?
In a big box truck. Or maybe a 15-passenger van with all the seats removed. Depending on the specifics of the gig, we rent the appropriately sized vehicle. We've considered buying a vehicle, but it's not cost effective for us, especially because we sometimes need different sizes.
On tour, we work together with presenters to figure out what instruments can be provided locally (particularly at Universities) and what we need to bring ourselves. If a gig is far enough away that we need to fly, then we may need to find friends or colleagues in the area (or make new friends!) who can help us out with larger instruments. We've also gotten very good at distributing instruments throughout our luggage so that every checked bag is exactly 49.5 pounds.
4. Are you guys related?
We've gotten this one a few times at elementary school shows. It usually elicits a hardy laugh, followed by a moment of, "wait a minute, do we look that much alike?"
The answer is definitely no, but it's probably like people who end up looking like their pets. You spend enough time together in a 15-passenger van crammed full of drums, and next thing you know, you start to establish a striking resemblance….
5. What's your favorite percussion instrument to play?
This is a good one. I polled the group at the end of a long month of performances and recordings.
Rob: If I had to pick one, I'd have to say the marimba. It's got a warm sound and a broad pitch range, and can sound very different depending on the mallets used on it. It's become a great vehicle for solo and chamber music.
Peter: The great thing about being a percussionist is that we're not defined by one instrument. I love the variety and the experience of finding the perfect context for a unique sound.
David: I love drums! I just have a soft spot for the drum set, and love the opportunity to rock out.
Sean: Ugh- I dunno. Is this for the blog?
(Rob: yeah)
Sean: I like it when you guys play trios.
(Rob: So you like playing TACET.)
Sean: Yeah… Ok, fine: vibraphone.
(Rob: Yeah?)
Sean: I guess.
(Rob: Do you want me to ask you again in an hour?)
Sean: Why don't you just put this whole conversation on the blog? I think this is all good stuff.
6. How do you decide who plays which part? Do you ever switch parts?
In a string quartet, it's obvious who's going to play the cello part. But for our ensemble, anyone could play any part. If someone has a particular part they want to play, they usually speak up at the beginning, and there's rarely a case where two people are really determined to play the same part. If we're working on duos, trios, or pieces where some parts are way harder than others, we try to balance it out so we're all equally overwhelmed. There are rare instances where there's a particular skill set required for one part that's not shared by all of us- we're not all equally good at playing piano, or whistling, for instance. A lot of times, we just assign the parts alphabetically by last name.
7. What's that drum with the stick in it?
This thing is called a Lion's Roar. Long time TCP fans will recognize this from John Cage's Third Construction, among other pieces. It's just a drum with a stick or rope secured through the drum head. The player draws a wet rag along the length of the stick or rope, and the drum head amplifies the friction, making a sound reminiscent of a lion's roar or growl. It was used as a Foley effect in radio plays back in the day. Once TCP played a gig in the LA area, and the presenter secured a lion's roar for us to use in the concert. We were informed that this was actually an "Ape's Roar," and that was used in the original Planet of the Apes films in the 1960s and 70s.
8. Don't you wish you played the flute?
Nah.
I mean, the flute's cool and all. But look at all the cool stuff we get to play! Plus we get the regular exercise of lifting heavy objects!
9. Where and how much do you rehearse?
We've got a rehearsal space in an old factory building in Chicago's North Center neighborhood. We moved in there in 2008, and in recent years, the building has also become the home to other awesome new music groups: Ensemble Dal Niente and Eighth Blackbird. There are also a number of print makers, some of whom have made posters for us, as well as CHIRP radio, Po Campo bags, and a number of other cool start-ups and artists.
There's no "normal week" in Third Coast Percussion land, but if there was, we'd be in Chicago, at our studio, from 10am to 6pm, Monday through Friday. We'd spend about half that time rehearsing and half the time doing the administrative work that goes into running our organization. Personal practice- and inevitably more administrative work- usually happens outside the 10-6 time frame.
But there's no normal week. Some times we're rehearsing non-stop all day, other times we're spending most of the day at our laptops.
10. Do you play any other instruments?
There's a little bit of guitar and a good bit of piano background, but really, percussion takes up all of our time. There's an infinite variety of instruments to learn, from musical traditions across the globe. Members of the group have been expanding our skill set lately, learning some non-western music. We've had the opportunity to study with some master musicians from Africa- Nani Agbeli from Ghana and Musekiwa Chingodza from Zimbabwe over the last few seasons, learning about Ewe drumming and Shona Mbira music.
Bonus question: "Is this your job?"
We get asked this a lot- or some variation of it. We're really excited to be able to say, "Yes! As of 2013, this is what we all do full-time." Third Coast Percussion is a 501(c)3 not-for-profit corporation. We have a fantastic board of directors who help steer our organization's growth, and there are a number of wonderful foundations and individuals who support our work through tax deductible donations. You can too!